By using our brand new Customer Receipt Designer, you can fully customise your customer receipts to look exactly the way you want! You can add or remove business details, increase font sizes or even add promotional messages at the bottom of your receipts – encouraging your customers to return and order again in the future!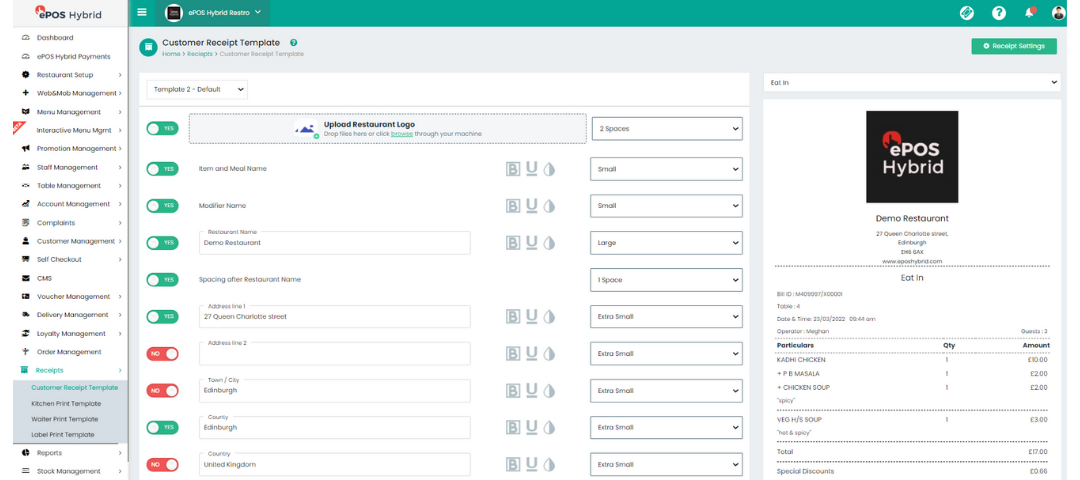 Research has shown that personalising receipts can result in larger tips for staff.
To access the receipt designer, log into your Admin Panel and select Receipts, followed by Customer Receipt Template to get started! Once you've updated your receipts, just refresh your Operator App to automatically update your system and hey presto! Your brand-new receipts will print with any customer orders!
Updated Table Reservation Layout
Introducing our brand new table management and booking platform! You can now instantly manage your table and seating area reservations in a brand new, easy to use timeline layout. For businesses offering eat-in services, the reservation screen on the Operator App has been updated to clearly show your current and upcoming reservations, as well as your available tables at any given time, allowing staff to see table availability at a glance.
BigHospitality research has shown that 45% of hospitality businesses don't advertise or offer table reservations via their social media pages. If you offer online table booking via Grafterr, adding the booking link to your social media pages can help encourage more customer bookings!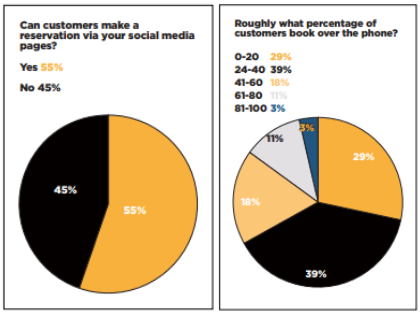 (source: BigHospitality research)

Grafterr Payments Transaction Data
If you take advantage of Grafterr Payments to take payments over the phone using MOTO, or to allow customers to order from your mobile apps via Google or Apple Pay, you can view all of your Grafterr Payments transaction data directly from your Operator App! You can now view all your transactions quickly and easily on your ePOS or within the Grafterr Payments section of your Admin Panel, allowing you to access your transaction data 24/7!

Baggage Charges
You can fully customise your baggage charges for individual service types (including online orders) via your Admin Panel!
Just select Restaurant Setup followed by Settings, then open the Package Pricing section to specify your baggage charges for each individual service type and just click Submit to update your changes!

Update Delivery/Collection Times from the Operator App
We know how important it is to be able to update your online ordering settings at any time without having to log into your Admin Panel, so you can update your expected delivery and collection times for online orders directly from the Web Orders screen on your Operator App – this automatically updates on your website and mobile apps giving customers a true reflection of when they can expect their food. You can even turn delivery or collection services off at the touch of a button during those especially busy periods!
You can also specify permissions for your staff on the Staff Management screen if you only want to allow specific members of staff to make these changes – if they don't have the relevant permissions enabled, the system will ask for authorisation from a member of staff that does!
Discount Report
If you've taken advantage of the wide range of promotion types available with Grafterr, you can access our Discount Report from your Admin Panel to track the performance of these promotions!